who run the world? (girls)
March is Women's History Month, and we want to take this opportunity to recognize and celebrate the incredible contributions of our female team members at Holt Homes. Women play a vital role in our company's success, and we are proud to have a team that represents diverse backgrounds, experiences, and perspectives.
These women are leaders, innovators, and trailblazers who have made a significant impact on our company and the construction industry as a whole.
We want to thank all of the amazing women who have contributed to our company's success. Your hard work, dedication, and passion are an inspiration to us all. Happy Women's Month!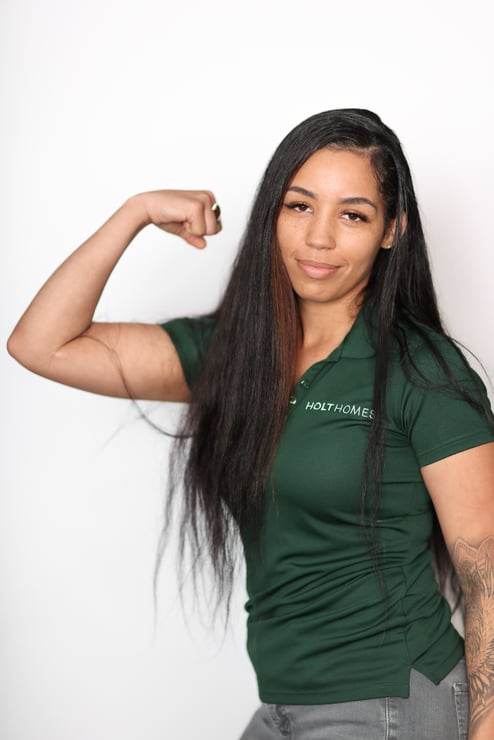 ty wainright

warranty technician
Ty is one of our construction warranty technicians and plays a critical role in ensuring that Holt homes meet quality standards and that any warranty-related issues are addressed promptly and professionally.

Part of her job consists of performing comprehensive inspections of our homes during the one year warranty follow up. She checks out different systems, including plumbing, electrical, and HVAC, in order to assess the home's overall condition.

Once Ty identifies any necessary follow up, she works closely with our homeowners and our customer care specialists to schedule repairs and ensure that all necessary work is completed to a high standard. This can involve coordinating with other contractors or subcontractors to ensure that repairs are completed efficiently and effectively.

In addition to performing repairs, part of Ty's job involves maintaining accurate records of warranty claims and ensuring that all necessary documentation is completed. With her attention to detail, Ty is dedicated to ensuring that every home built by Holt Homes meets the highest standards of quality and functionality.

aly rutherford

marketing coordinator
If you've ever visited a new home construction site, you may have noticed a team of people working tirelessly to bring the community to life. Among them is Aly Rutherford, Holt's Marketing Coordinator, who plays a vital role in ensuring the success of each new development.
One of Aly's primary duties is to ensure that accurate and up-to-date information about all homes in every one of our communities is available for public view. This includes working closely with the sales team to make sure that all available homes are properly listed on the MLS and other online listing platforms and that all details about our homes, including features and pricing, are accurate.
Aly also plays a key role in supporting the sales and field staff. This includes coordinating with the sales team to ensure that they have all the information they need to successfully sell our homes and providing field team members with appropriate signage support.
Perhaps the most exciting part of Aly's role is the opportunity to bring new communities to life. This includes working closely with our land acquisition team on area research, communicating with land development for homesite delivery updates and working with our home build team and partners to ensure new home communities are properly marketed and staged before our Grand Opening.

alyssa baggio

HR Specialist (Recruitment & onboarding)
Employee onboarding is a critical process in the HR department and Alyssa ensures that our new hires have a smooth transition into their roles within the Holt. She is responsible for managing the entire process, from orientation to integration into the company culture.

Our onboarding process is more than just filling out paperwork and going over the employee handbook. Alyssa ensures that our new hires are fully integrated into the company's culture and understand their role within our organization. This includes providing training, introducing them to their team, and helping them understand Holt's company values and goals (The Holt Way).

One of Alyssa's primary responsibilities is maintaining open communication with our new hires throughout the onboarding process to ensure they feel welcomed and supported. This includes being the main point of contact for any questions or concerns that the new hire may have and checking in regularly to see how they are adjusting to their new role. Seeking a career with Holt? Alyssa is your first stop!

angala millard

Office Manager - medford
Angala has been a key contributor in the opening of our new Holt Homes office in Medford, Oregon. Her dedication to overseeing the day-to-day operations of our satellite office has been critical to ensuring our projects in Southern Oregon run smoothly and efficiently.
Angala works collaboratively with our construction and sales team to make homes are progressing on schedule and that our customer needs are met. Her attention to detail, multitasking abilities, and strong communication skills have been instrumental in coordinating with contractors, subcontractors, and suppliers.
She has been an integral part of our team, and her hard work and dedication have contributed significantly to our success in Rogue Valley. We are grateful for her efforts and are fortunate to have her leading our office operations in Medford.
---
ABOUT HOLT HOMES
For more than three decades, Holt Homes has built new construction homes for families in Oregon and Southwest Washington. The quality and experience of our people, the ease and efficiency of our approach, and the livability of our communities work hand-in-hand to make Holt Homes the largest locally-grown home builder in the region. For more information, live chat or call us at (971) 231-5560.