See what life is like at Gateway Landing
Gateway Landing is a new home community from Holt Homes located at the base of the beautiful Columbia River Gorge in Troutdale, Oregon. This great community is now selling 3-story craftsman-style townhomes with flexible studio spaces on the ground level. With lots of features included with each townhome, Gateway Landing has the new home you've been looking for in an amazing location.
The 1303
This great townhome layout gives you everything you want in the perfect amount of space. A lower-level bedroom is a perfect place for a guest, a work-from-home office, or an extra creative area.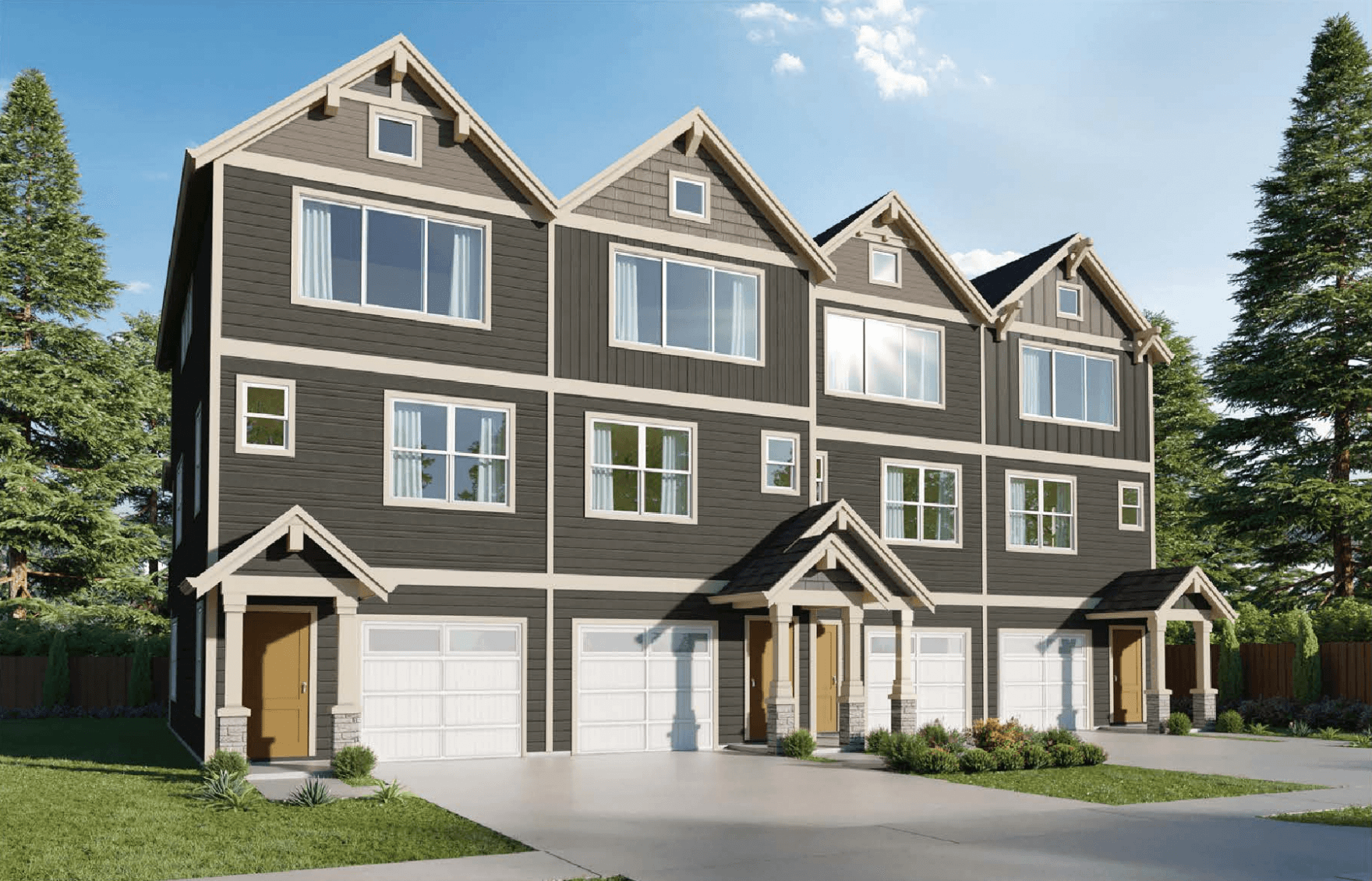 Front-load 4-plex
1,303 square feet
3 bedrooms
1.5 bathrooms
1-car garage
The 1309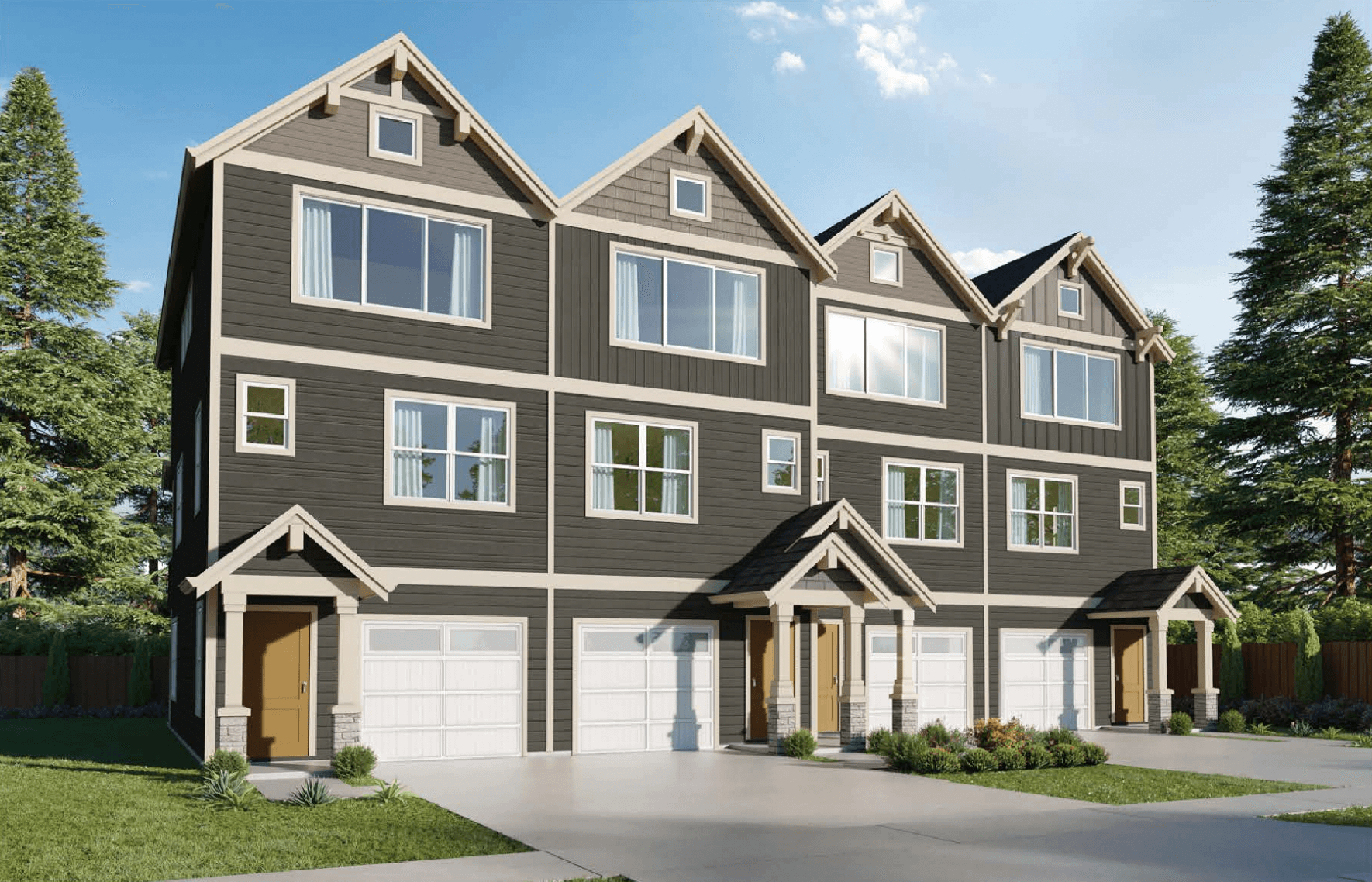 This slightly larger layout makes the most of every inch of space. The extra square footage belongs to the secondary bedroom upstairs.
Front-load 4-plex
1,309 square feet
3 bedrooms
1.5 bathrooms
1-car garage
The 1397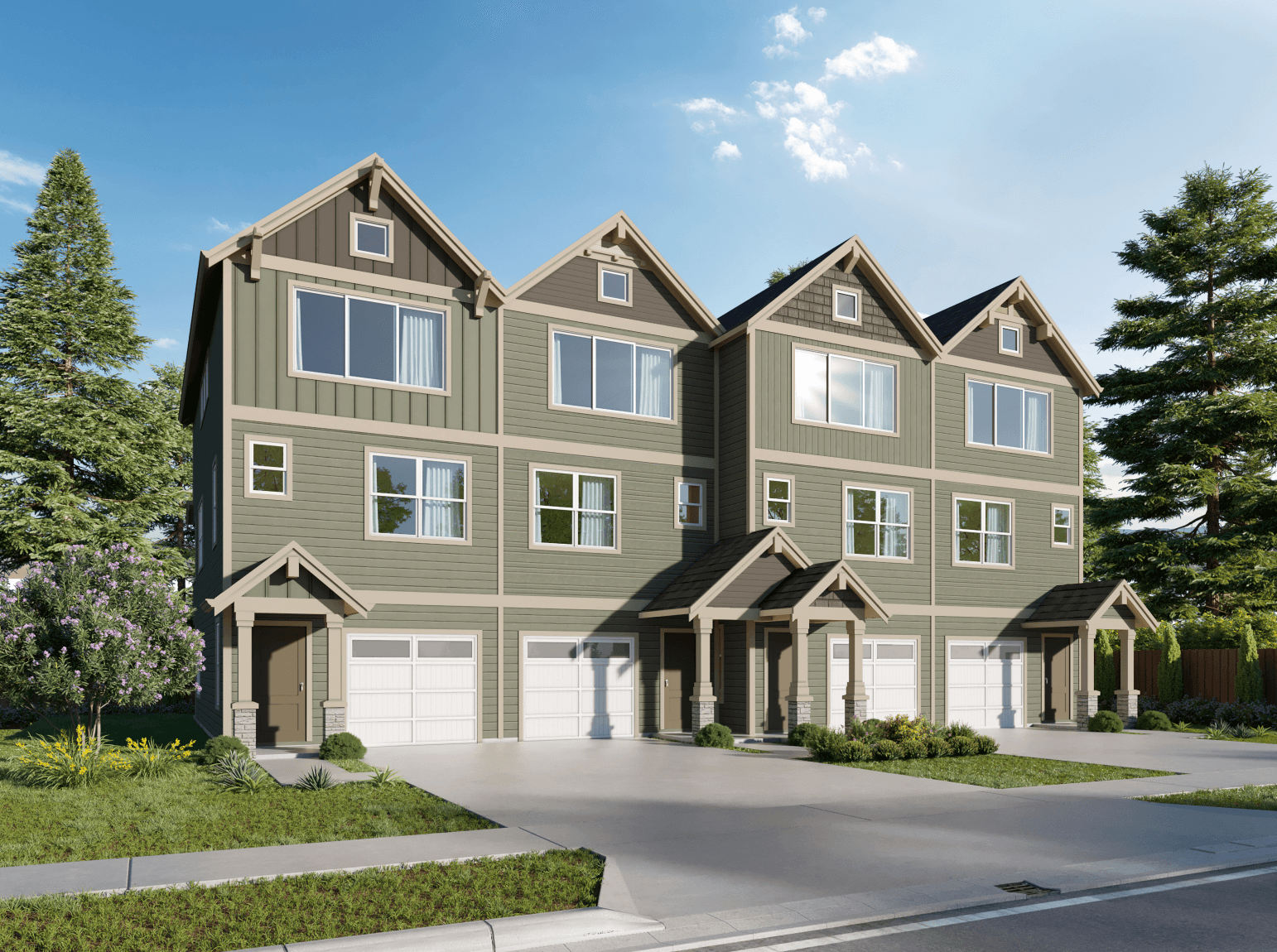 This townhome floor plan ups the square footage and the bathrooms to boost convenience for everyone in the home. The downstairs studio space also features a kitchenette.
Front-load 5-plex
1,397 square feet
3 bedrooms
3.5 bathrooms
1-car garage
The 1437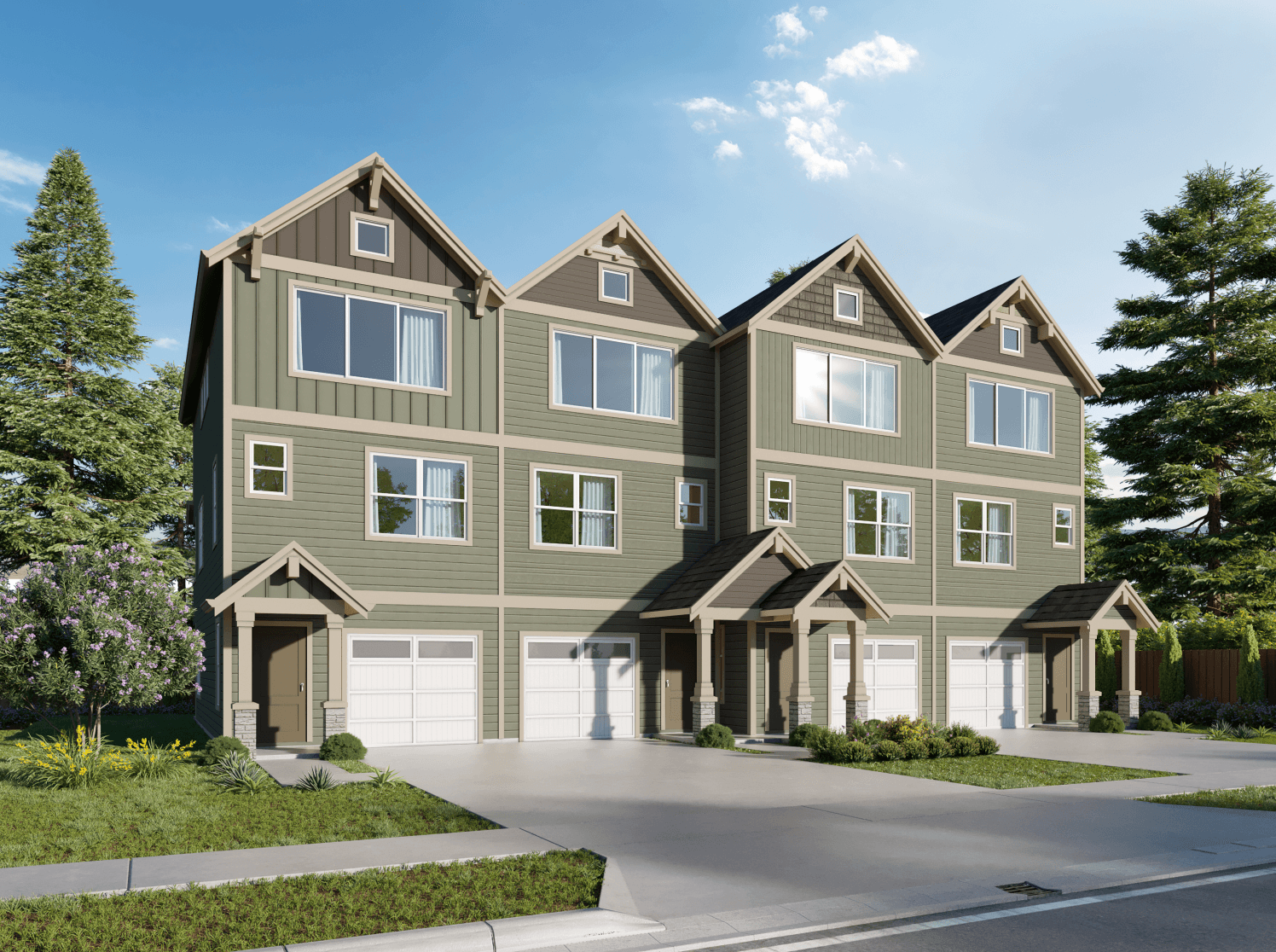 More space is a plus. The dining room and great room get much roomier in the 1437, and life is good here. The 5-plex version of the 1437 keeps the same great features of the 4-plex version, just with one more neighbor. This plan also offers a kitchenette in the downstairs space.
Front-load 3-plex, 4-plex or 5-plex
1,437 square feet
3 bedrooms
3.5 bathrooms
1-car garage
The 1443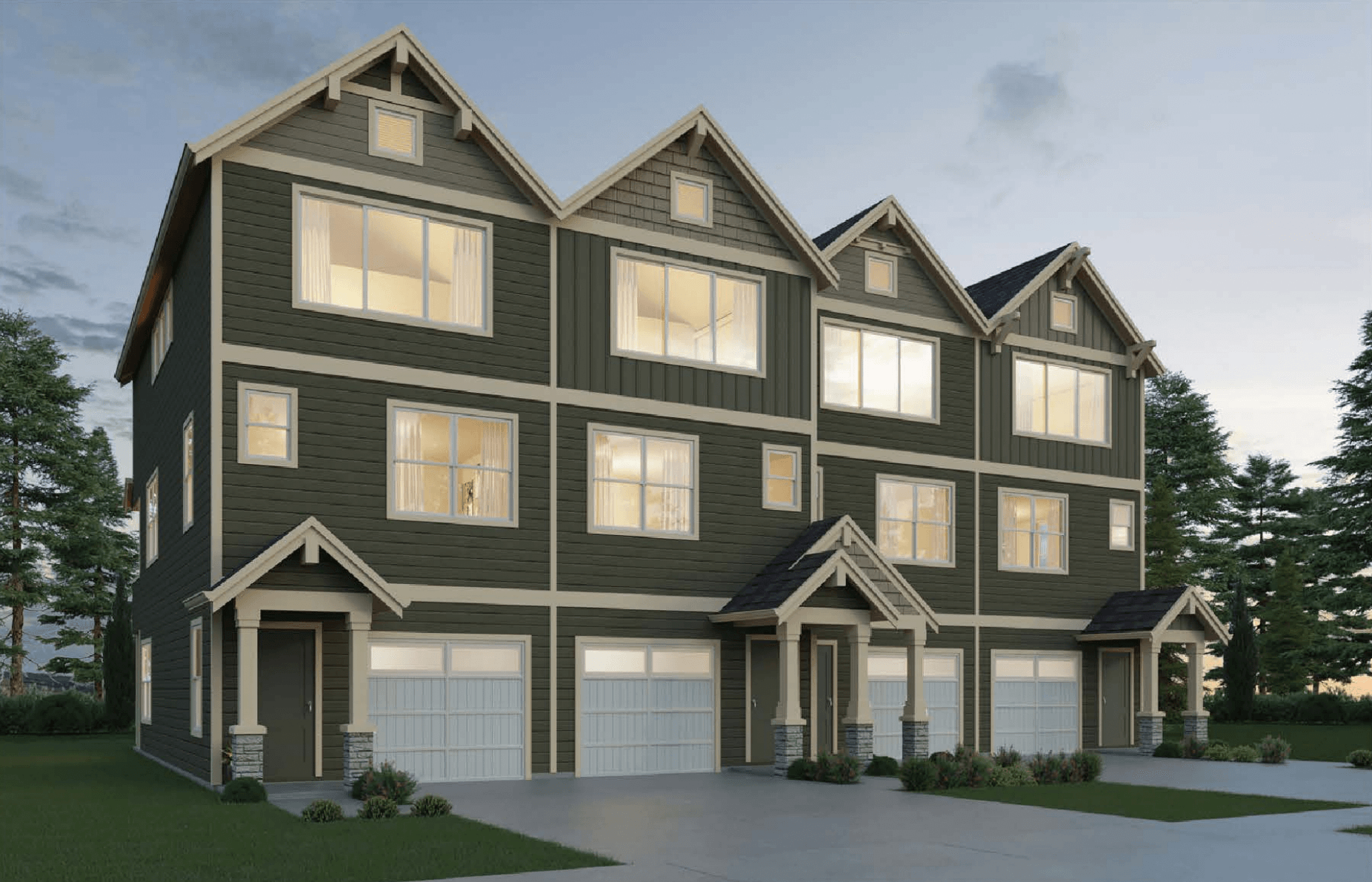 If you want to max your space in this community, then the 1443 is the townhome for you. The extra square footage here is mainly focused in the downstairs studio space...perfect to provide you with more elbow room for your favorite at-home workout.
Front-load 3-plex, 4-plex or 5-plex
1,443 square feet
3 bedrooms
3.5 bathrooms
1-car garage
Every one of our townhomes at Gateway Landing features a range of included features such as laminate flooring throughout the main level, and shaw carpet throughout the upper level. An open great room / kitchen creates an inviting place to host friends and families any time of the year with large windows to let the natural light in.
A Location for all of life's adventures
The new townhomes at Gateway Landing are located within walking or cycling distance of charming downtown Troutdale, and close to many outdoor recreation opportunities that are accessible just beyond your doorstep. Conveniently close to shops, restaurants, and bars, but also amenities like groceries, gas, and Mount Hood Community College, Gateway Landing is right where you want to be. We know life in the PNW is all about getting outdoors, and it's a big reason why Gateway Landing is such an ideal location. Troutdale Mayor's Square City Park, Lewis and Clark State Recreation Site, and the Sandy River are all walkable via street and pedestrian trails. When you're ready to hit the road, Gateway Landing has quick access to the freeway and the scenic Columbia River Highway. A short 25-minute drive will take you right to dozens of hikes in the Gorge including Oregon's treasured Multnomah Falls.
Gateway Landing is now selling! Have any questions about the floor plans or want to tour the site? Then
drop us a line
, so we can help you get the info you need to decide if it's where your new home will be.
---
For more than three decades, Holt Homes has built new construction homes for families in Oregon and Southwest Washington. The quality and experience of our people, the ease and efficiency of our approach, and the livability of our communities work hand-in-hand to make Holt Homes the largest locally-grown home builder in the region. For more information, live chat or call us at (971)-231-5560.