5 Coastal PNW Day Trips
With September just around the corner, there's only a handful of weeks left to enjoy a little surf and sun before autumn comes knocking on our door. Lucky for us Pacific Northwesterners, we have several fantastic options for a last-minute day trip to a beautiful coastal getaway. We've rounded up five seaside PNW locales offering picturesque rolling dunes, weathered cliffs, invigorating waters, and mountain views. With a repertoire of activities to choose from at each location, whether you're a surfer, hiker, swimmer, sandcastle builder, or beach reader, you'll find the ideal trip for you.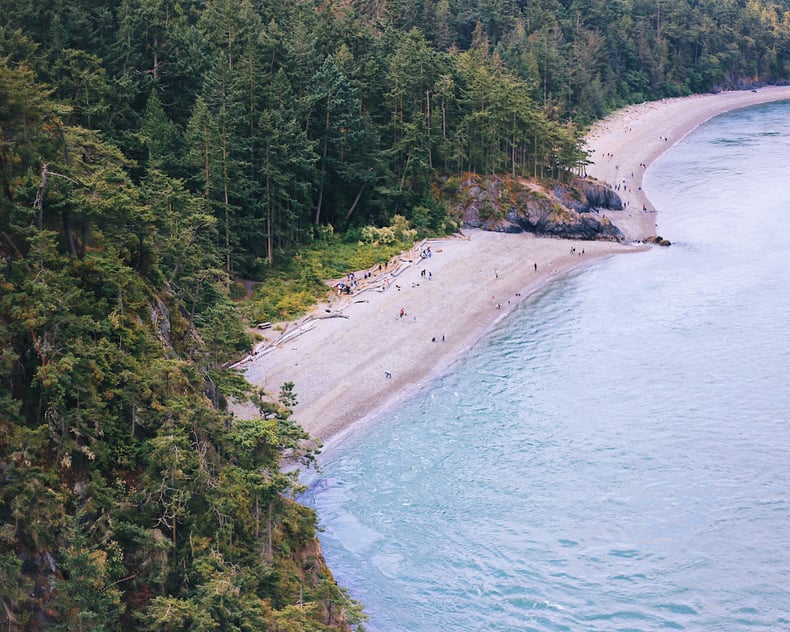 Deception Pass State Park, Washington
This rejuvenating, vast shoreline nestled in the shadows of the nearby Olympic mountain range is Washington's most-visited state park for a reason. Rich with rugged cliffs, mysterious coves, and jaw-dropping sunsets, Deception Pass offers various outdoor activities such as clamming, crabbing, diving, hiking, and swimming. Miles of Puget Sound beachfront provide the perfect place for seashell hunting and whale-watching, while avid hikers will enjoy 38 miles of trails encompassed in lush forestry along the bluffs. If the beach isn't your thing, head over to Cranberry Lake for some swimming, fishing, or boating.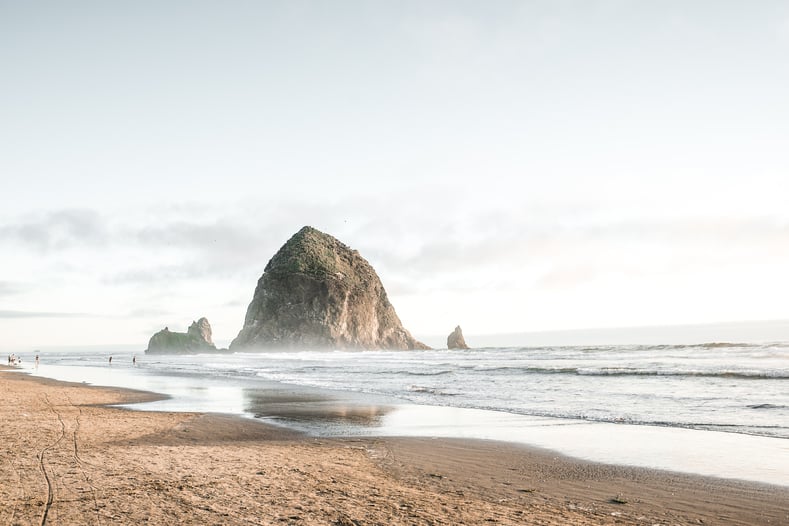 Cannon Beach, Oregon
Be ready to take several photos while visiting Cannon Beach as this PNW gem is known for its dramatic landscape of towering rock formations and local wildlife. Herds of elk can often be seen grazing in nearby meadows (and even in the surrounding neighborhoods!), while puffins nest on Haystack Rock, the Oregon coast's iconic 235-foot-tall sea stack. While the picturesque natural surroundings are a main attraction, Cannon Beach provides visitors with the quintessential small beach town experience. Wander the charming sidewalks and courtyards of downtown Cannon Beach to discover art galleries, specialty shops, restaurants, and public art. Cannon Beach is arguably easiest and most enjoyable to explore on foot.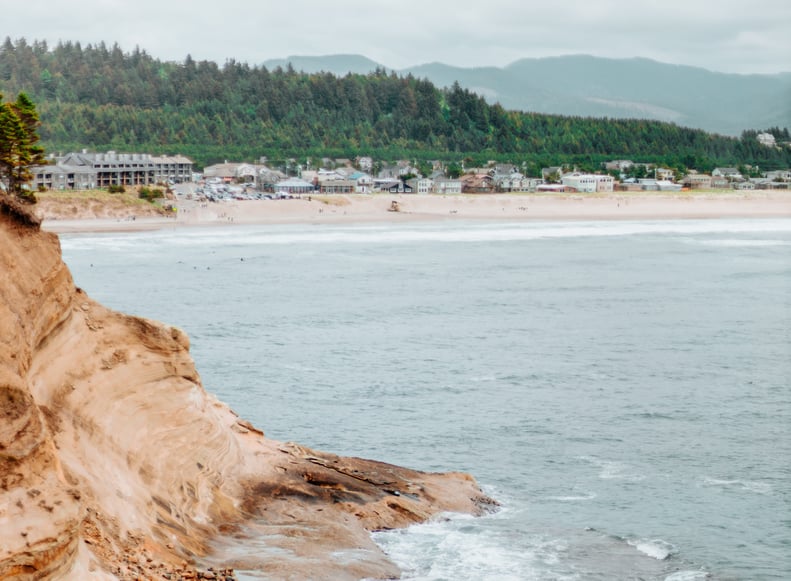 Cape Kiwanda, Oregon
Cape Kiwanda offers one of the most beautiful beaches on the Oregon coast! Whether you're interested in taking a good old-fashioned walk on the beach or getting a little more adventurous in the natural areas nearby, there's definitely something for you here. Cape Kiwanda, famous for its massive waves, features ample opportunity for hiking, surfing, and wildlife viewing, as well as hang gliding and kite flying. If you're seeking a real challenge, you can climb to the top of Cape Kiwanda's signature 240-foot sand dune for sweeping 360° views of the coast. For a midday pick-me-up, you can explore the walkable beach town decorated with various coffee shops, restaurants, and stores. A treasured local haunt is Pelican Brewing Company, a local brewery famous for its beachside outdoor seating with incredible views to take in while savoring the best burger and beer combos on the coast.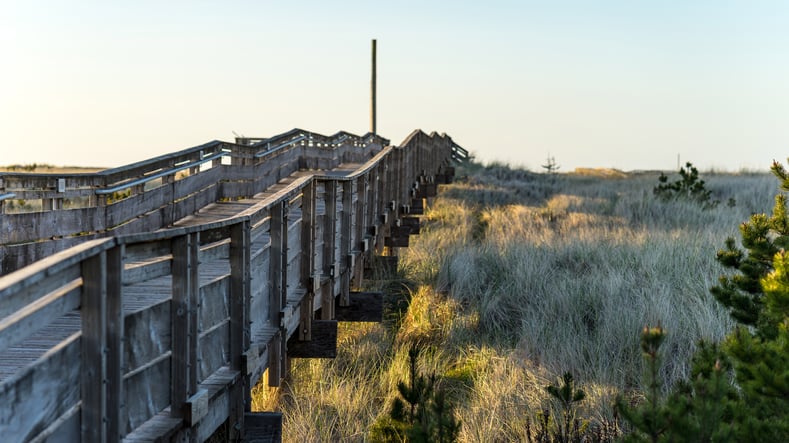 Long Beach, Washington
Proudly boasted as the "World's Longest Beach", this coastal getaway spans 25 miles of sandy beachfront and is comprised of several villages along the Long Beach Peninsula. Popular attractions include strolling the 1/2-mile boardwalk, enjoying perfect kite-flying weather, horseback riding along the trails, or following in the steps of Lewis and Clark on the paved 8.5-mile Discovery Trail. But one of the most convenient features of Long Beach is that you can drive and park your car right out on the sand! After getting your fill of the expansive ocean front, head over to explore Pacific Avenue, the main drag through town dotted with quirky roadside attractions (like the world's largest frying pan!) and local eateries.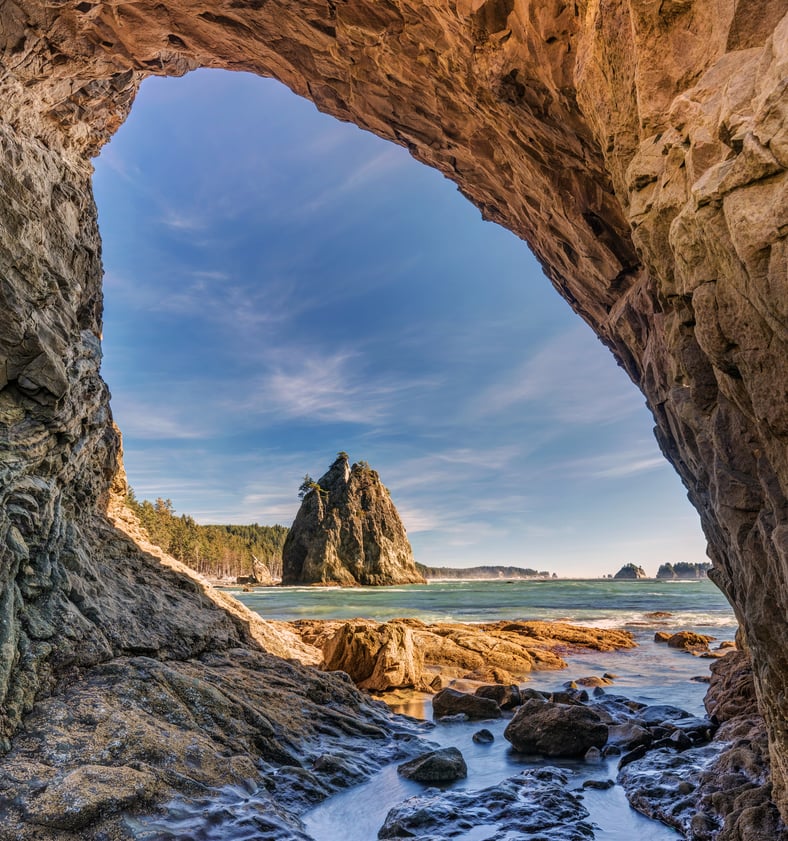 Rialto Beach, Washington
Forks, Washington, widely-known as the Twilight series' forested setting, is also home to nearby Rialto Beach, a moody coastal stretch rich with extraordinary sea stacks and piles of driftwood. At low tide, you can take Instagram-worthy pictures in front of Rialto's most famous landmark, Hole-in-the-Wall, a naturally forged stone archway. This area is also one of the best places in the Olympic National Park to observe tidepools teeming with sea life, including colorful starfish, sea urchins, rock crabs, sea anemones, and pink coral. During late summer and early fall, you might even catch a glimpse of sea lions, gray whales, and sometimes orca and humpback whales out in the surf. When you're not gazing out at the Pacific, you can marvel at the giant piles of twisted, sun-bleached driftwood logs washed up along the edge of dense evergreen forest. You can even enjoy a picnic amongst the shoreline's vast tree graveyard before heading home.
Day trips are made easy as most of these coastal spots are only 2-3 hours from the Vancouver and Portland Metro areas! For information on nearby Holt communities, visit our website.
---
For more than three decades, Holt Homes has built new construction homes for families in Oregon and Southwest Washington. The quality and experience of our people, the ease and efficiency of our approach, and the livability of our communities work hand-in-hand to make Holt Homes the largest locally-grown home builder in the region. For more information, live chat or call us at (971)-231-5560.