Maintaining Your Floor's Appearance and Integrity
One of the most satisfying aspects of owning a newly constructed home is those fresh, unblemished floors. But even homes containing the most-high quality and durable flooring can start to see the wear of daily life over time.
Luckily, you can easily preserve your floor's appearance and integrity for years to come with proper and regular care. Let's break down some of the best methods for maintaining the various flooring types you'll find in your Holt home.
VACUUMING and Sweeping
It may seem like a no-brainer, but a simple vacuuming/sweeping routine can do wonders for preserving all manner of flooring throughout your home. Keeping floors clear of dust, pet hair, and other particulates helps prevent scratching, scuffing, and build-up.
If floor maintenance is a real passion of yours, go for it! Break out that vacuum or broom anytime you notice debris. If however, you'd rather spend your spare time on other endeavors, a once-a-week sweeping/vacuuming routine that pays attention to those heavily trafficked areas should do the trick.
Pro Tip: When vacuuming, adjust your machine's height setting appropriately or use an attachment with soft bristles. Your vacuum will thank you with a long and productive lifespan.
Engineered wood flooring
Ah, Engineered wood. The future of hardwood flooring. While many confuse this innovative material for laminate, it's actually a natural wood floor covering. You read that right! By applying a thin layer of hardwood over a high-quality piece of plywood, engineered wood mimics the look, warmth, and feel that we all love about traditional hardwood. Plus, it's more environmentally sustainable - double-win!
Wood flooring is not without its challenges though. While probably the most high-value floor covering, it's also the most susceptible to water damage and scratching. It, therefore, represents a lifestyle choice that requires a larger commitment to care. In other words, we're not saying you can't have three children under 5, two dogs, and hardwood flooring. But we're also not not saying that.
When cleaning your engineered wood flooring, keep in mind that, like solid wood, water is not your friend. Even "waterproof" flooring is not impervious to prolonged exposure. As such, if you're planning to give your engineered floors the full cleaning treatment, resist the urge to break out a sopping wet mop or DIY vinegar mixture. Opt instead to use a microfiber pad, lightly dampened with a manufacturer-approved wood cleaning solution.
Because wood is more prone to scratching, it's best to be extra careful with shoes, pet claws, and dragging furniture. Area rugs are super helpful, as are sliders under the legs of chairs, tables, etc. And when moving any large piece of furniture, please, don't take it on yourself. No amount of pride is worth a permanent scar on your beautiful wood floors.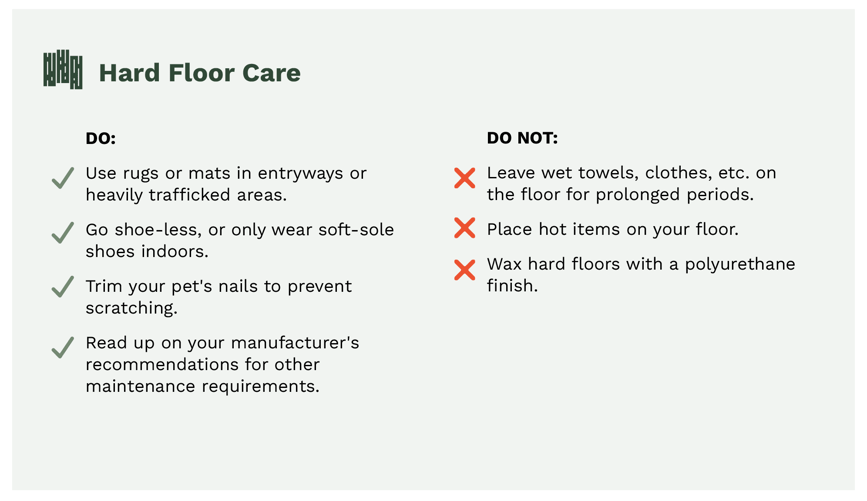 Luxury Vinyl (lvp and lvt)
Many Holt homes offer Luxury Vinyl Planks (LVP) and Luxury Vinyl Tile (LVT) flooring options—emphasis on the luxury. LVP can typically be found throughout the home, particularly on the first floor. Whereas LVT (along with sheet vinyl) is more often found in bathrooms, laundry rooms, and kitchens. These vinyl surfaces have the same cleaning methods and will last much longer with limited exposure to water and scratching from furniture or shoes.
Approach cleaning LVP and LVT as you would any other hard flooring surfaces. Take note, however, that some cleaning products can leave streaks or even damage the protective sealant on LVT and LVP floors. In particular, avoid cleaning products that utilize oil or wax. These can bead on top of the material and attract more dirt than they remove. To stay on the safe side, always check your cleaning product's label to ensure it's approved for use on Luxury Vinyl.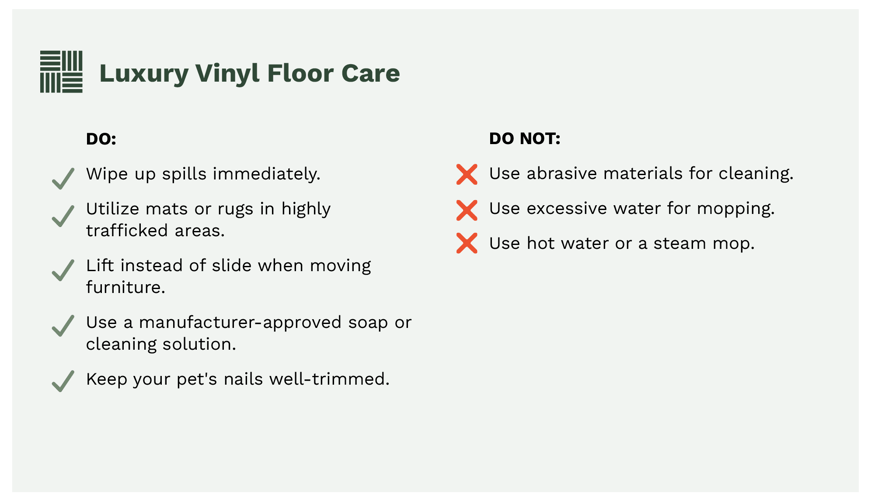 Laminate flooring
While laminate flooring has a very similar appearance to luxury vinyl, it tends to be more susceptible to puckering or peeling with prolonged water or heat exposure. While there are a few types of water-resistant laminates, you should always assume nothing is completely "waterproof." So, be extra diligent about cleaning up spills on these floors, and only use laminate-approved cleaning products.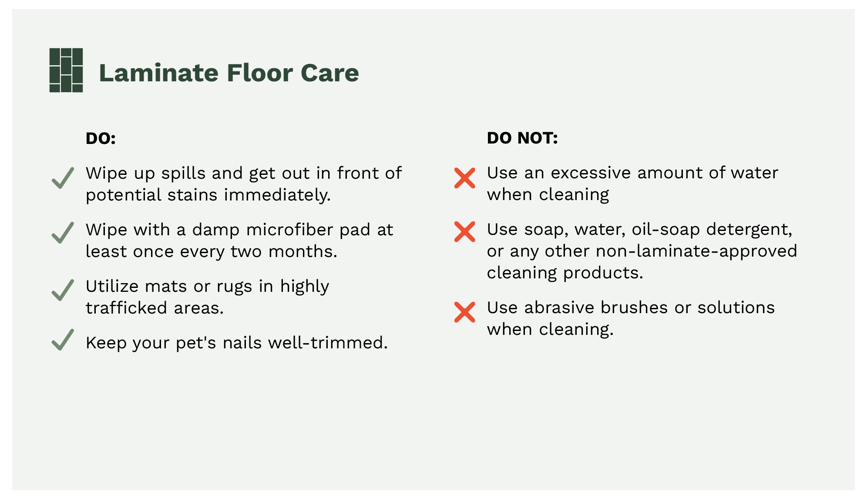 tile flooring
Porcelain and ceramic tile are terrific at repelling water, so it's common to find these materials in high-moisture areas. While the two types of flooring appear to be similar, porcelain tile is denser, more durable, and more water-resistant compared to ceramic tile. Keep this in mind if you notice any prolonged water exposure, especially on your ceramic surfaces.
For inspection, pay close attention to where the floors meet the baseboards, toilets, tubs, etc. to ensure caulking is adhering to both surfaces. Apply matching grout or sealant to any cracks that you notice in pieces of your tile.
To prevent water damage, we recommend sealing the grout between your tiles (your Holt Home does not come with the grout already sealed) as part of your introduction to homeowner duties and refreshing that sealant on a yearly basis.
Otherwise, frequently clean your tile with a damp microfiber pad. Although tile is fairly strong, you should avoid any unnecessary abrasion or hard scrubbing which can potentially lead to scratches.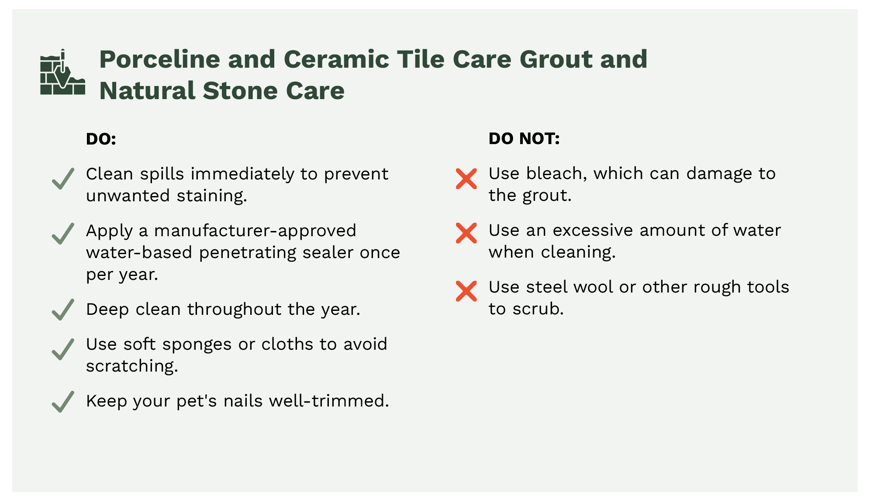 Carpet care
When it comes to carpets, there's vacuuming, and there's vacuuming like a pro! Using short, slow movements allows the vacuum to really do its job, pulling up any debris hiding deep within the material.
Since spills are inevitable, it's wise to keep a manufacturer-approved carpet cleaning product on-hand to treat any affected area as soon as you notice a stain. When using any new product on your carpets, it's best to test it out in a small, inconspicuous location (like a closet) to ensure it won't discolor your carpet. A carpet-friendly shampoo or upholstery cleaner is another great option.
Pro Tip: When addressing a spill, always be sure to dab it rather than rub it to avoid spreading.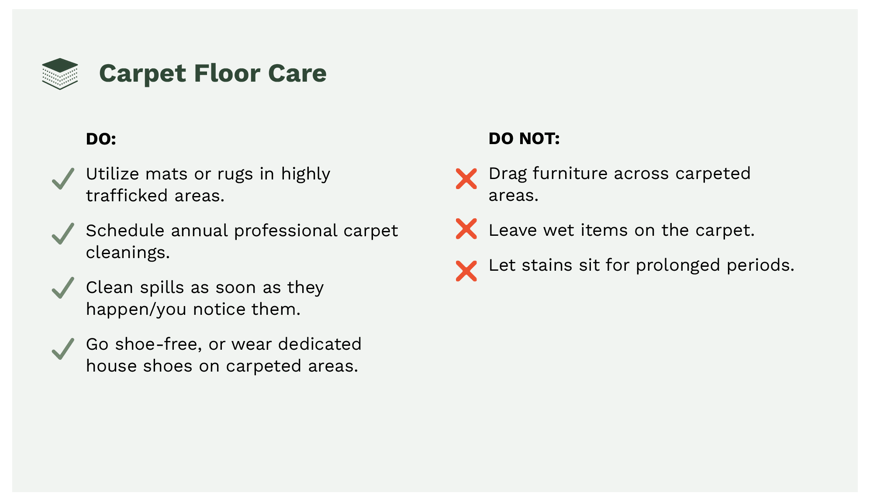 Regularly caring for your floors and enlisting is a crucial part of being a homeowner. When you notice any debris, stains, or wet spots, try and tend to them as quickly as possible to protect your floors from any damage. For any larger issues, don't hesitate or delay reaching out to a professional for assistance.
We hope this guide will serve as a helpful manual so you can keep your new Holt home looking fresh and new for years to come. For more Holt home improvement and maintenance information, visit our Customer Care page.
---
For more than three decades, Holt Homes has built new construction homes for families in Oregon and Southwest Washington. The quality and experience of our people, the ease and efficiency of our approach, and the livability of our communities work hand-in-hand to make Holt Homes the largest locally-grown home builder in the region. For more information, live chat or call us at (971)-231-5560.