Best Practices for Countertops and Tile Maintenance
Countertops and tiles: your home's unsung hero, adding more character than perhaps any other feature. And with proper care and maintenance, your countertops and tiles will reward you with years of faithful, glowing service. But what does that "proper care and maintenance" look like? Let's get into it!

The BAsics
When it comes to countertops and tiles, cleaning is pretty universal. At a minimum, you should wipe your surface down every time you use them with surface-approved cleaners.
Because some tiles and countertops consist of particularly scratch-prone materials, it's best to stay away from abrasive pads or cleaners to avoid dulling, marring, or discoloration.
If you are cleaning between grout, you can use a mild detergent and bristle brush to help sharpen up those grout lines.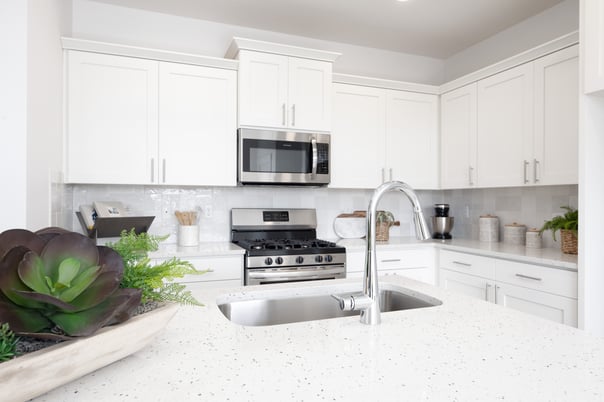 QUARTZITE
Through it may sound like Quartz's little brother, Quartzite is actually a different material from Quartz with a few key distinctions. Quarts is considered an engineered stone, a synthetic material made from stone chips, resins, and pigments. In contrast, Quartzite is a metamorphic rock that originated as sandstone. While the two products look very similar, Quartzite is best preserved by applying a sealant to the surface.
Natural Stone
Natural stone is another durable material that comes in many different patterns and colors. The most important thing to remember here is that natural stone is porous. It can absorb water, oil, or any other moisture over time. The best way to prevent this? Applying a manufacturer approved stone-sealant at least once a year.
Pro tip: if you are ever in doubt about applying sealant, our a bit of water on a high-use area of the countertop and let it sit for several minutes before wiping it up. If the water leaves a dark spot, that means the material is porous. Err go, regular sealing is required.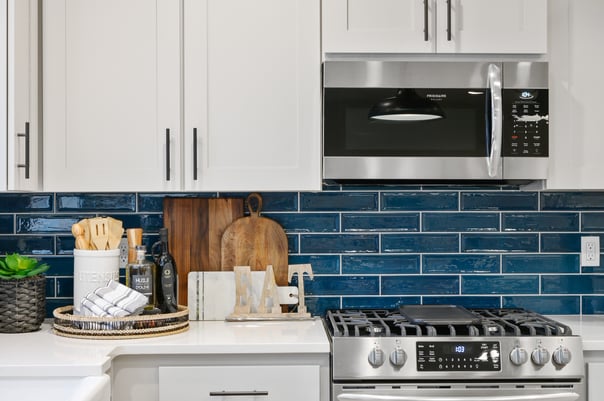 Granite
Granite is one of the most durable countertop and tile materials. Bur with great strength comes a few weaknesses. While it's incredibly heat-and discoloration-resistant, it's actually relatively porous and can soak up oil and moisture over time. Luckily, you can prevent this by (you guess it) applying a manufacturer-approved sealant at least once a year. And fortunately, the granite countertops in your Holt home are move-in ready sealed. So you can start annually sealing just your 1-year check-in.
Pro tip: When sealing, it's particularly important to focus on areas around your sink and stove top as frequent cleaning will erode sealant over time.
Marble
Unlinke granite, marble is a relatively soft material that is less heat-resistant, and a bit more prone to chips and stains. While it's still a fairly durable option, it's actually better suited for bathroom applications. But that doesn't mean it can't make a great countertop with proper care! If you have marble countertops in your home, use caution when placing pots and pans, and apply sealant at least once a year after your 1-year check-in with Holt.
Tile
Porcelain and ceramic tile are terric at repelling water, so it's not surprising these are common materials for countertops, backsplashes, and floors. While the two types appear to be similar, porcelain tile is denser, more durable, and mre water and heat-resistant compared to ceramic tile. Keep this in mind if you notice and prolonged water or heat exposure, especially on your ceramic surfaces.
The grout in your Holt home does not come pre-sealed. So if you'd like to seal your grout, do this upon move-in and refresh annually. If you're not familiar with the idea, you can do the research on the pros and cons of sealing your grout easily online. Outside of that, frequently clean your tile with a damp microfiber pad. Although tile is fairly strong, you should avoid any unnecessary abrasion or hard scrubbing, which can potentially lead to scratches.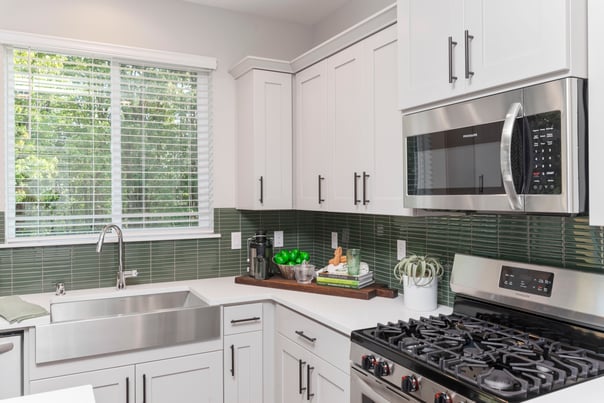 Laminate
Laminate is a great material for capturing a more expensive look without having to empty your pockets. It does, however, come at the cost of durability. Unlike real marble or granite surfaces, laminate is a much thinner material that can be adhered to your surfaces and is therefore much more susceptible to heat and water damage. The best way to keep it looking fresh is to verify that its caulking joints are in good condition and well-adhered to both sides, refreshing as often as necessary.
Warranty Details + Repairs
If you are still within your 1-year check-in widow with Holt, be sure to record any damages you notice in your home. If in doubt as to whether an item will be covered, consult your warranty booklet, but here is a basic warranty breakdown:
Example Items Covered Under Warranty:
A one-time courtesy touch-up or repairs for select caulking/grout blemishes at your one-year walkthrough
-Repair or replacement of laminated surface cracks or joints exceeding the allowable width.
-Repair or replacement of countertop, if the cracks are the result of a faulty product or installation.
Items NOT Covered Under Warranty:
-Variations in color or texture in your granite, marble, stone, or solid surface countertops/floors.
-Damages near the tub, shower basin, and countertop that are the result of unmaintained homeowner responsibilities, along with damage to other finish surfaces due to leaks from neglect.
Takeaways
While countertops and tile tend to be fairly durable materials, they are not immune to chipping, cracks, or damage. So it's best to use caution when placing pots and pans down, and avoid prolonged heat and moisture exposure whenever possible. If damage occurs that isn't covered by your warranty, don't despair. There are often solutions and tradespeople out there able to save your countertops.

If you ever have questions about the materials in your home, be sure to consult your homeowner booklets, check out our online Resource Hub, or contact our customer care team at (360) 892-0514.
---
About Holt Homes
For more than three decades, Holt Homes has built new construction homes for families in Oregon and Southwest Washington. The quality and experience of our people, the ease and efficiency of our approach, and the livability of our communities works hand-in-hand to make Holt Homes the largest locally-grown home builder in the region. For more information, live chat or call us at (971) 231-5560.